INTEGRATED TOTAL CONTROL SYSTEMS LIMITED (ITCS) Nigeria is a multi-disciplined indigenous company  that brings global expertise and products to its wide client base. ITCS provides Supply, Engineering and Services to the Industrial Sector, Oil and Gas & Power companies for enhancing the productivity and reliability of their plant operations. We integrate products and provide services for the Oil & Gas, Power, Refining, Agriculture, Mining, Aviation, Marine and Water industries.
Incorporated in 2006 to market Total Control Systems (TCS) products, then quickly developed into a full-fledged Engineering, Procurement and Construction company.
ITCS builds on over 30 years of experience of its management in oil & gas industry in Nigeria and we have offered unblemished professional and timely services for the various industries over the years to our various clients.
We deliver access to the world's best technologies through long-standing and partnership relationships with world class Original Equipment Manufacturers and Engineering services providers.
Our long experience in Nigerian industries enables us the use of established high calibre and experienced staff fully conversant with procedures and systems that meet our customers' requirements.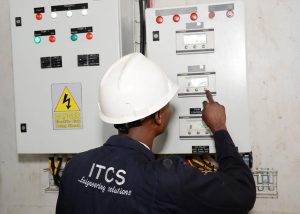 ITCS staff and its management are fully committed to the highest safety standards in the industry and consistently maintain HSE policies and procedures for all of its operations. Our relationship and coverage of the clients' base through our dedicated & trained sales team provides edge to all our business partners to offer and correctly position the most optimised solutions to our clients' needs.
As part of any turn-key Engineering and Construction project, ITCS is able to design, construct, commission and operate facilities. With our experienced team of experts, we are able to draw on significant experience in the design and construction of systems and facilities in a wide variety of operating environments, from extreme cold to extreme heat and humidity.